Caravan King's Cross
Posted on
Hello! It's been a long time...
Sorry for the lack of updates on Mondomulia lately, but I am trying to adjust to a new routine of life: working as Account Manager in Frankfurt during the week; living in my new home in Clapham, London during the weekend. We have bought our first house, which is great, though it meant leaving our adored little flat. It was heart-breaking as I have so many beautiful memories about that place. But life goes on and now we have embarked onto this new phase of life called "married life and acting as a responsible adult with a mortgage"! ;)
We are renovating the new house, so at the moment we have no furniture and live out of boxes, while carpenters knock down walls and build new rooms! Hence the lack of baking and new recipes on the blog...
I have also been working as freelance food photographer for Market Quarter and as market trader for Olive Branch, which means that things have been pretty busy lately. Thankfully, I am going on holiday to India next week! Wedding number three is happening soon! :)
I have been meaning to tell you about the beautiful Caravan King's Cross since visiting it for brunch at the start of September. Caravan King's Cross is the big brother of Caravan Exmouth Market, known among brunch lovers as the best place to go for a weekend meal.
About the new Caravan, I love the warehouse building with open kitchen and coffee roastery, big windows and lots of light coming in; and the location in the revamped King's Cross area. Exit at the back of King's Cross Station and you will discover a new street (King's Boulevard) and, across the Regent's Canal, a new square.
I went during the Ice-cream festival weekend and Granary Square was crowded with kids playing with the water fountains.
On Granary Square, an impressive Victorian building stands out. It is the new home of Central Saint Martins College of Arts and Design. A cool location for cool people, right? On the ground floor of the Granary Building, you will find Caravan.
Quoting from Time Out magazine, the "conversion of the Grade II listed Granary Building, by architect Paul Williams, has been handled with great integrity. The brick façade is unimpeded, while the back of the building gives way to a glass and concrete modernist construction. Inside, it's the epitome of warehouse chic with painted brick and high, pipelined wooden ceilings. In Caravan's expansive dining room, office workers and art school hipsters sit side-by-side at pine and metal tables, arranged canteen-style in long lines".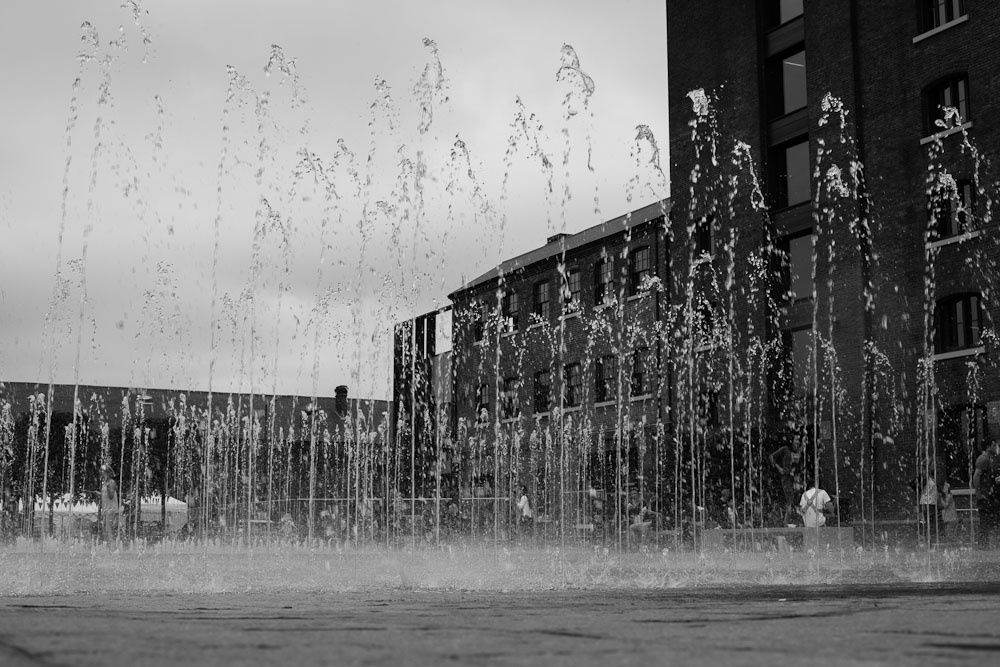 Caravan King's Cross is only a few months old and is already very popular. We waited for about half an hour at the brew bar, where only the lucky ones get a stool (yes, that was me)! ;) We waited, sipping a good Flat White and taking photos of the interiors.
Caravan roast their own coffee and the big roasting machines occupy the space at the back of the cafè. Bags of coffee beans and ground coffee can be purchased at the bar.
After some time we got a table and ordered some food. I tried the Caravan Fry: eggs, mushrooms, tomato compote and bacon with grain toast.
My friend Serena, of Into the F World tried the Raclette and Spinach French toast with bacon and watercress (though it was served with rocket) while my husband Sandy went for the vegetarian option: Jalapeno corn bread with fried eggs, black beans and tomatillo (not pictured).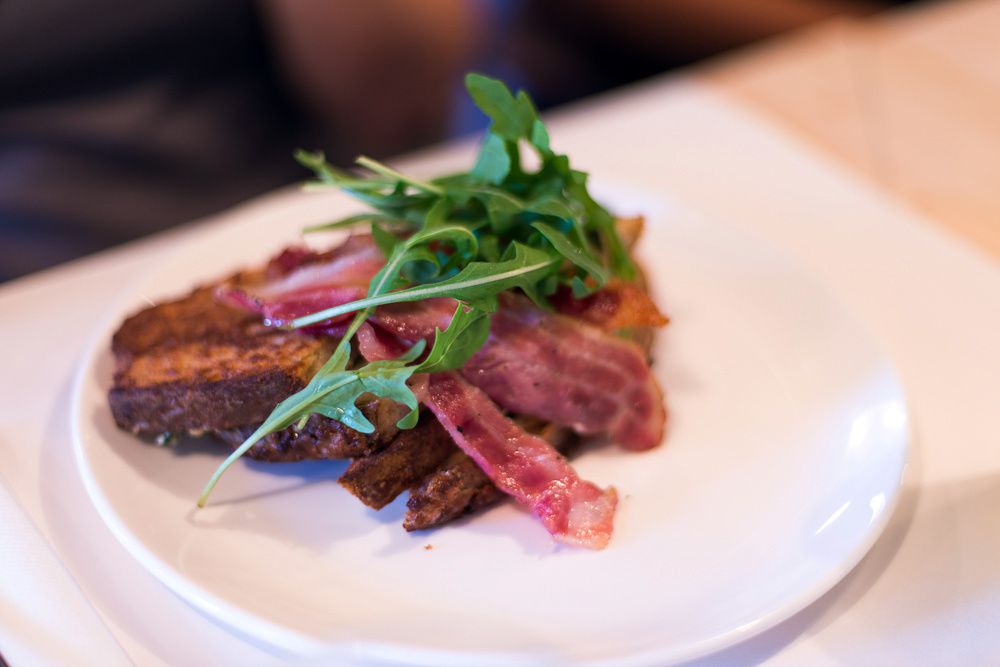 Sandy also ordered a dessert, Espresso Affogato with Vanilla Ice-cream, while I finished the meal with a Macchiato.
Despite feeling a bit over-whelmed by the crowd, noise and wait at the time, I have kept a lovely memory of the day and I am looking forward to visiting Caravan again. Though it is a perfect brunch spot, Caravan is also a nice lunch and dinner destination to keep in mind!
PS: all photos were taken with a Nikon D800 camera, which I had rented for the weekend, and a 50mm f/1.4 lens. I can't take my eyes off the photos taken with that camera, absolutely gorgeous colours! Hope you'll love them too!