Hello and welcome, my name is Giulia Mulè. I am a food and travel blogger and photographer and I live in London.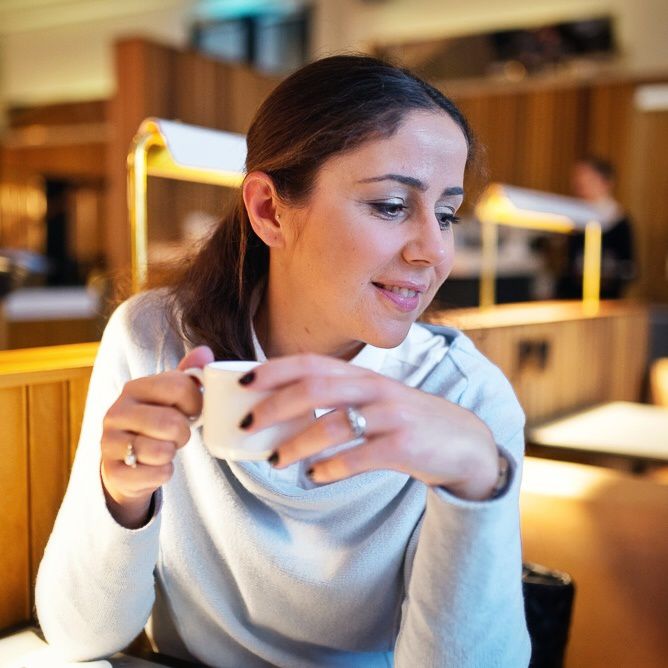 I was born in Rome, Italy and I lived there until I was 25 years old. I always had a passion for traveling and curiosity for exploring the world, so after university I moved to New York to do an internship for 6 months. After that I won a scholarship to work in London and I have been here ever since.
My plan was to keep moving, but then I met Sandy - now my husband - and so I decided to stay here a while longer. But my plan is too move again soon...
Since moving to London I have deepened my passion for photography and I have discovered a love for baking. They are both outlets to get my creativity going and relax me after a day in the office (I work full-time in advertising).
In 2012 I decided to combine my passions into a food photography and travel blog - Mondomulia.
I am often traveling abroad or exploring London and trying new restaurants and coffee shops, so I spend most of my free time outside. Often I am with my iPhone in hand checking photos on Instagram. When I am home, I try to put the phone away and relax by baking, watching TV series and cuddling with my husband.
Frequently Asked Questions
What is your blog about?
Mondomulia is a food, photography and travel blog. I focus on baking recipes, restaurant and coffee reviews, travel guides.
Why did you start a blog?
I created Mondomulia because I wanted a place to share my photos and cooking experiments, but also as an incentive to practice my photography skills. It quickly became much more than that: Mondomulia is now a part of who I am and a source of constant excitement, motivation and pride.
How often do you blog?
I try to blog twice a week, alternating recipes, reviews and travel posts.
Can I use your recipes on my blog or website?
You can share my recipes on personal blogs as long as you link back to my site. If you want to publish one of my recipes on a website or a publication, please contact me first to request permission.
Who takes the photos for you blog?
All the images on Mondomulia are my own work, unless stated. If you would like to use any of my photos, please contact me in advance.
Do you write sponsored posts?
I don't often write sponsored posts, but you can email me to discuss your offer and I will get back to you with an answer.
Do you get paid to write about restaurants?
No. I am sometimes invited to sample the food at new or existing restaurants in exchange for a review on my blog. In these instances, you will find a disclaimer at the bottom of my post. I only review places that I liked and that I want to recommend to my readers. I always share my honest opinion.
You live in London, which are your favourite food spots?
I love independent coffee shops and my favourite one is Workshop Coffee in Clerkenwell, an area full of great restaurants. My husband is from Mumbai and we rely on Roti Chai in Marylebone for authentic Indian street food. I love Sunday brunch and one of my favourite places is M1lk in Balham, where you can also get great Workshop coffee. For eating out I love the Brixton Village.
All content and photos on this site are protected by copyright and cannot be used without permission.