The Monocle Café
Posted on
It all began when a photograph appeared on Pinterest a few weeks ago: white stucco fronted house, black and white canopy, big shop window, pendant lights, coffee machine. And a name that immediately evokes style, appeal and design: Monocle.
I fell in love at the sight. Where was this café? Was it open already? Why had I not seen it before? That feeling of excitement at having discovered yet another beautiful café in my city!
I did a bit of research and learnt that the Monocle Café would officially open on the 15th of April, in Marylebone (18 Chiltern Street, W1U 7QA). I patiently waited for the day to come, until finally this week I ventured west for my first visit.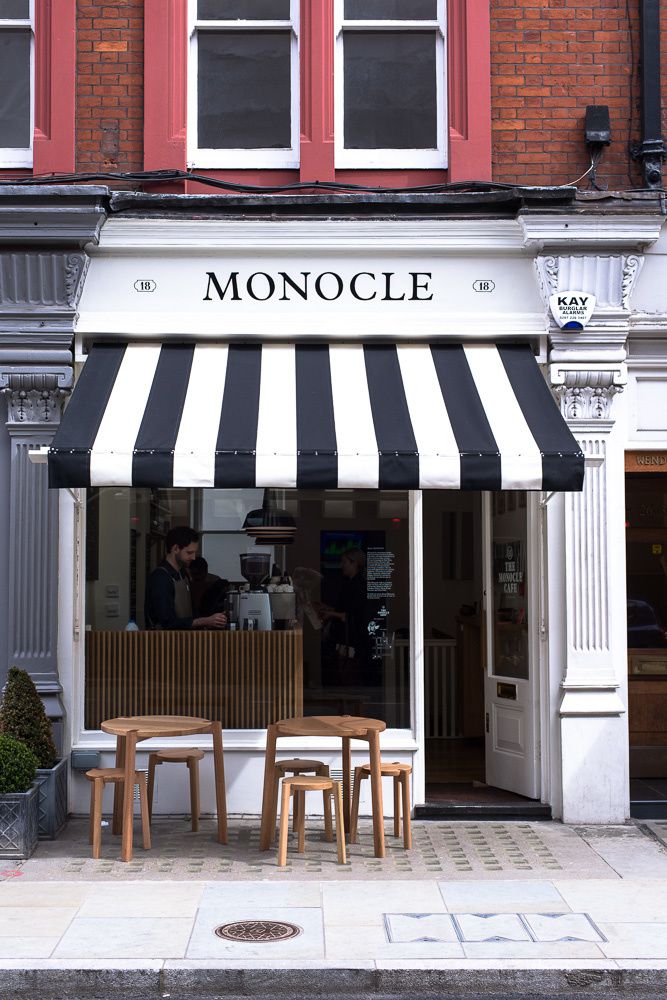 Launched in February 2007, Monocle is an international lifestyle magazine, headquartered in London and focused on global affairs, business, culture and design.
Aside from the printed and online publication and a radio show, Monocle have shops in New York, London, Toronto, Tokyo and Hong Kong where they sell "products that cater to their readers' tastes", as well as a café in Tokyo's Yurakucho. The Marylebone's coffee shop is the latest addition to the brand.
Walking through Marylebone on my lunch break, I was filled with a sense of calm and peace. Every shop in Chiltern Street is beautiful: antiques, wedding gowns, art. Monocle could not have found a better location to reflect the brand's ethos! (no wonder the café is around the corner from their HQ office).
Leaving the bustling Baker Street and hoards of Madame Tussaud's visitors behind and turning right into Chiltern street felt stepping into a different space.
As soon as you walk in the café, you enter the Monocle world as everything inside seamlessly encompasses the brand.
For me, it was like walking into a familiar world. [...] It feels like a small version of a membership club (without the membership), where you can have a coffee and read the papers or actually stop for some lunch.
The staff are Monocle through and through. Really, the whole thing is. Whether or not the whole brand proposition is fanciful and aspirational beyond the stars is beside the point, as the delivery here is spot on.
While I imagine the Monocle café in Tokyo to be an open space for busy shoppers to get a quick meal and regain energies before attacking the shops again (it is located in Hankyu Men's department store), the London sister café really feels more like a membership club. It's in a part of town not invaded by tourists, shoppers or office workers on a lunch break; I see it as the perfect place for nomad workers and freelancers to meet clients.
The café has a distinctive international flavour, with furniture from Japan and Australia, cutlery from Denmark and coffee from Kiwi roasters Allpress. Downstairs acts as a members-only space for magazine subscribers, including a projector and screen for presentation and karaoke.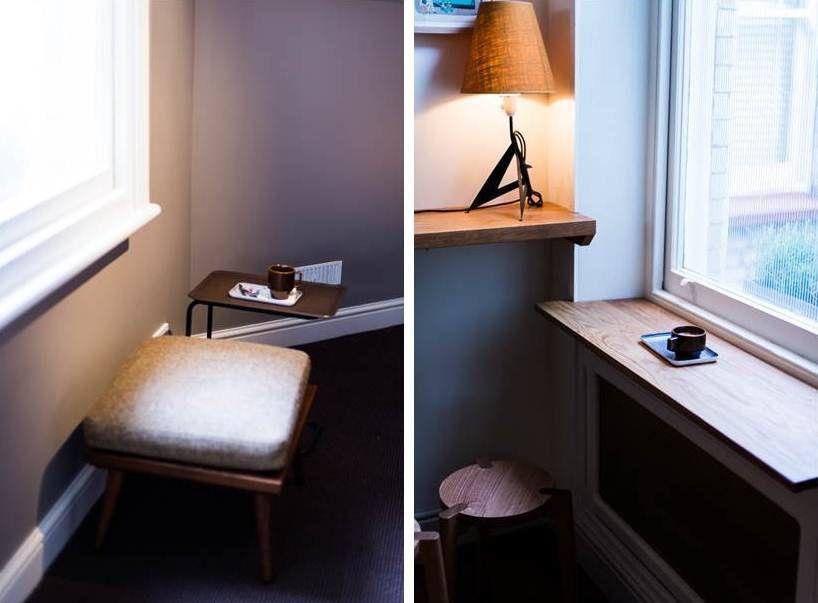 They have not set a date yet to launch the food menu, but it should feature "a range of dishes, including their swiss-inspired bircher muesli, a rich and cheesy monocle toasty and their own midori salad, made with seasonal ingredients" (quote from Colour Living).
For the moment, you can find cakes made by Japanese Chef Masayuki Hara and Swedish pastries from Fabrique bakery.
The espressos are made on La Marzocco machine and coffee beans are from Allpress Roastery. I ordered a macchiato, which was good in taste, although the milk didn't have the creamy texture I am used to getting from my favourite independent coffee shop. Here the milk was foamy and more similar to what I find in Italy.
My "lunch" was a cinnamon bun, which was exactly as good as the ones I buy from Fabrique's bakery in Hoxton (just more expensive...). At £3.00, the macchiato was also above London's average coffee prices.
Here, you don't pay just for the beverage, but to be surrounded by like-minded souls and to be part of the Monocle world.
I am not a reader of Monocle and yet I loved discovering their world and I felt at ease right away in the café, thanks also to the friendly and welcoming attitude of the staff.
I will recommend all my friends to go and I will happily travel to West London for another visit myself!
* Marte Marie Forsberg, a Norwegian food photographer and stylist that I love, was also at Monocle and was sitting behind me when, unknowingly to me at the time, she took this Instagram shot of my coffee and jacket. Quite a small world of "like-minded souls"!