Sweet Carnival Fritters
Posted on
I know, today is the day to write about pancakes. It is Pancake Day after all. In Italy, however, we have different traditions and today we celebrate Mardi Gras, the last day of the Carnival.
We celebrate Carnival with street parades and masquerade parties, music and by making pranks. Children and adults dress up in colourful costumes and throw "coriandoli" (confetti) at each other on the street. It's very joyful and fun! The best place to celebrate Carnival is Venice, it may be crowded and overwhelming, but definitely something worth experiencing once in a lifetime!
Foodwise, we have many regional recipes that are typical of Carnival, but more or less they are all a variation of these sweet fritters. In Rome, where I come from, they are called frappe, but elsewhere they are also known as cenci, chiacchere, lattughe, crostoli, bugie and so on.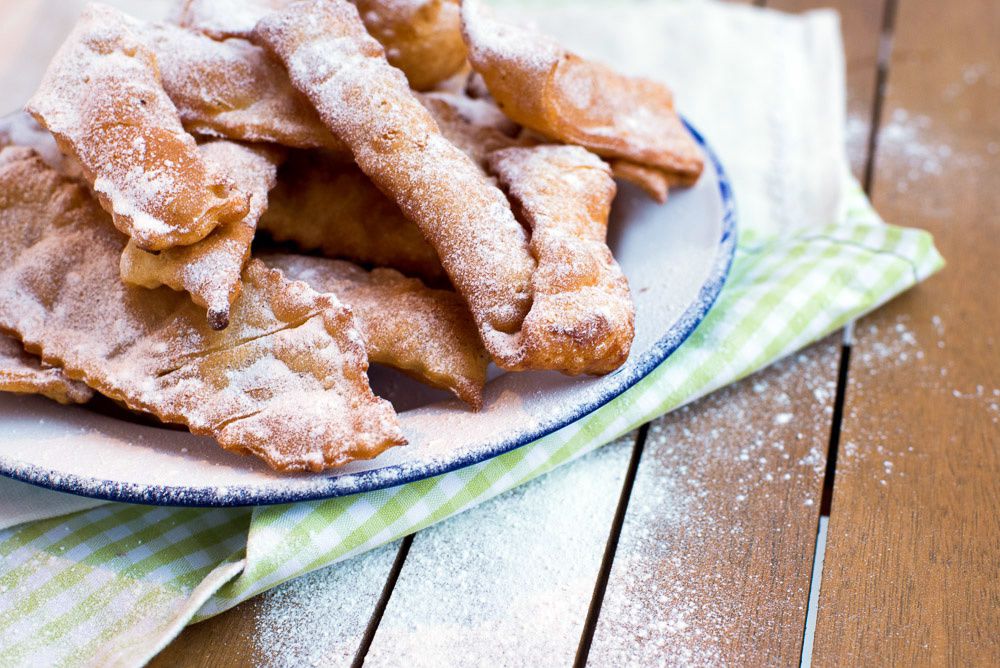 Frappe are crispy fritters made with flour, sugar, butter, eggs and liquor. While names and recipes differ between regions, the substance remains the same: to stuff yourselves with fatty foods, before the fasting period of Lent will start tomorrow, on Ash Wednesday.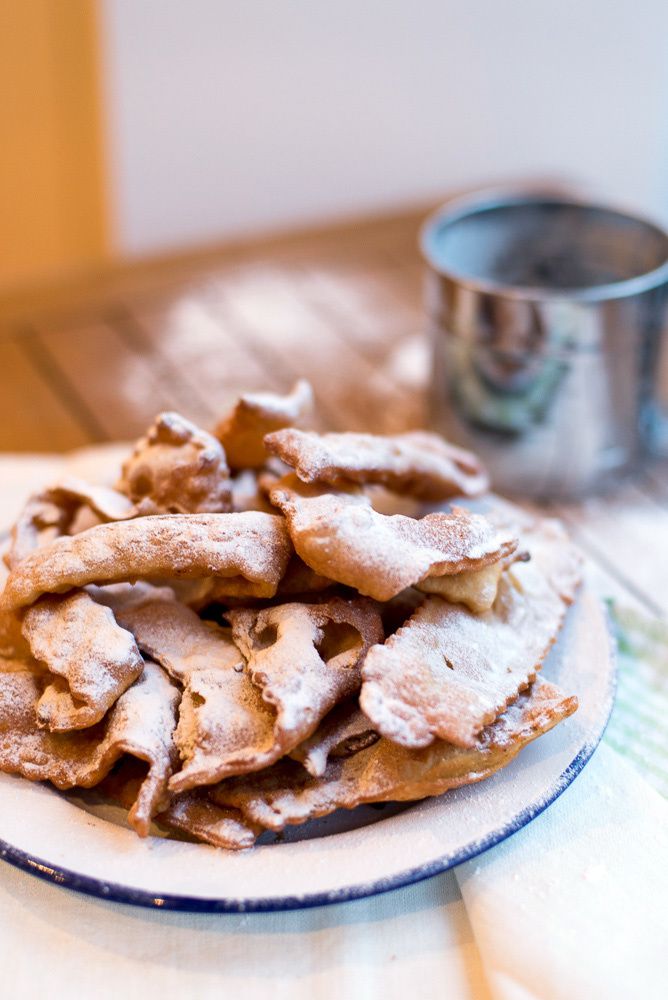 I love these sweet fritters, though I am not usually a fan of fried food (exception made for St Johns custard doughnuts!) and admittedly this is not something you can eat all year round! But it is a great indulgence to have during the Carnival season and a tradition I'd love to mantain in my family.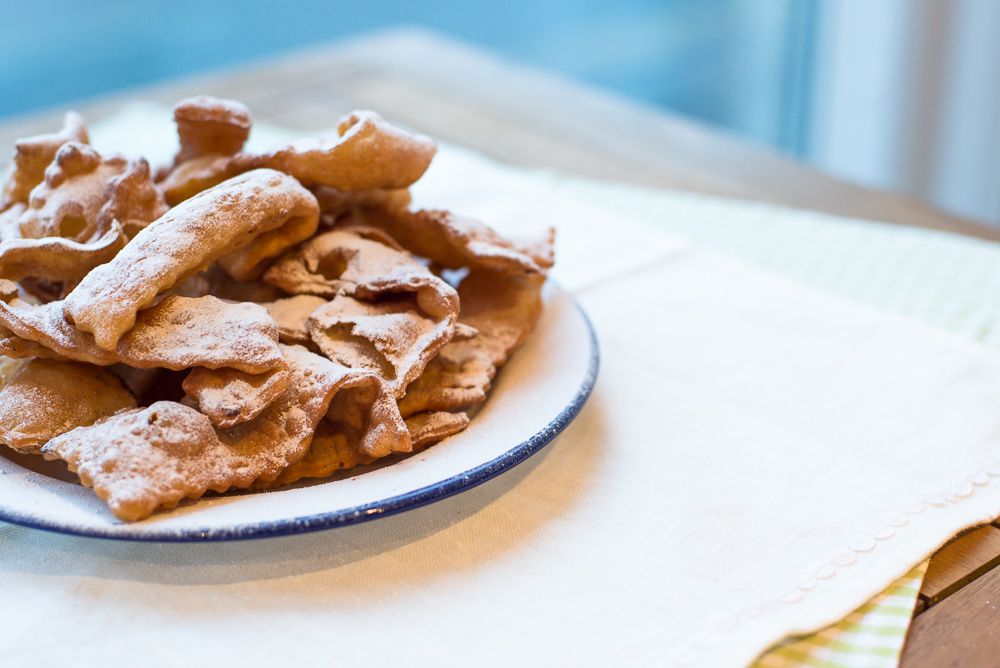 I have used a recipe that I got from my mum, with rough measurements and instructions, which sounded like this: add a bit of this, a little bit of that, mix it and fry it! She got it from my grandma whom notoriously doesn't write down any recipe, but simply makes them up from memory as she goes along.
To write down the recipe preparation for this post, I have referred to Napoli Unplugged blog.
Ingredients
250g white flour

1 medium free-range egg

1 egg yolk

50g caster sugar

50g unsalted butter, softened

2 tbsp of grappa or dry white wine

zest of 1/2 lemon

pinch of salt

a little bit of milk

vegetable oil (to fry)

icing sugar
Preparation
Sift the flour onto a counter and make a well in the center. Add the egg and yolk, sugar, butter, grappa and lemon zest to the center of the well. Work the ingredients together until a firm dough forms, adding a little milk if the dough is too dry or a little flour if it is sticky.
After you've kneaded the dough, it should be just a little sticky to the touch. Cover with plastic wrap, and rest on the counter for 30 minutes (do not refrigerate).
Divide the dough into two or three pieces. On a lightly floured surface, roll out one of the pieces of dough, 2-3mm thick. With a pastry wheel, cut the dough into 3cm strips. At this point, the dough is ready to be fried.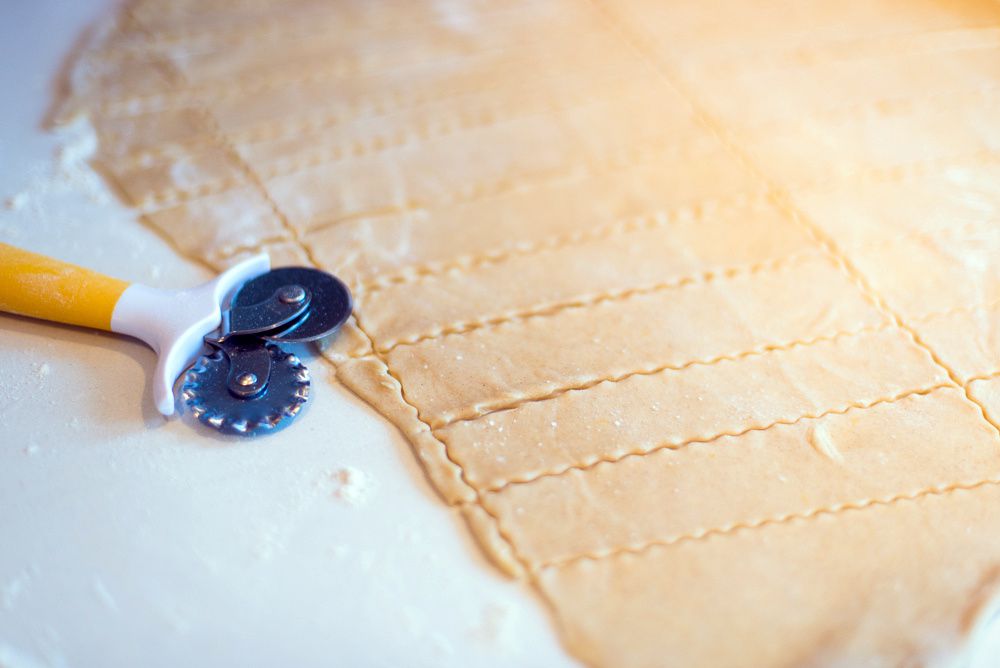 Heat the vegetable oil. When hot, drop the pieces of dough in it and fry until golden all over and puffed, for about 2/3 minutes.
Remove to a platter lined with kitchen paper; continue in the same way with the remaining dough.
Serve hot, dusted with the icing sugar.