Spelt Rugelach with Homemade Plum Jam
Posted on
My in-laws (who live in Mumbai) have been staying with us for a few weeks now and as you can imagine it's been challenging. Sharing your home with elderly people who come from a completely different cultural background, have strict eating habits (they are vegetarian and are used to only eat Gujarati food) and with whom you can barely communicate in English and hand signs, is not easy.
The other difficulty has been finding ways to keep my parents-in-law entertained in a city they don't feel capable to explore on their own. They spend most of the week at home, so the pressure is on to make the weekends count.
Since the main activities my mother-in-law does everyday is cooking vegetarian dishes, I suggested to my husband to take her to a PYO farm to pick fruits and vegetables. And guess what? She was the happiest I have ever seen her!
My husband had a lot of fun too! ;)
I went to a PYO farm in Buckinghamshire last summer and I absolutely loved it. This time though we went to a farm closer to home: Garsons Farm in Esher, Surrey. They have an incredible range of fruits and vegetables to pick: apples, raspberries, blackberries, beetroot, broccoli, carrots, cabbages, cauliflower, onions, potatoes, sweetcorn and even sunflowers!
We picked a lot of Victoria Plums too, which were in season and incredibly juicy and sweet!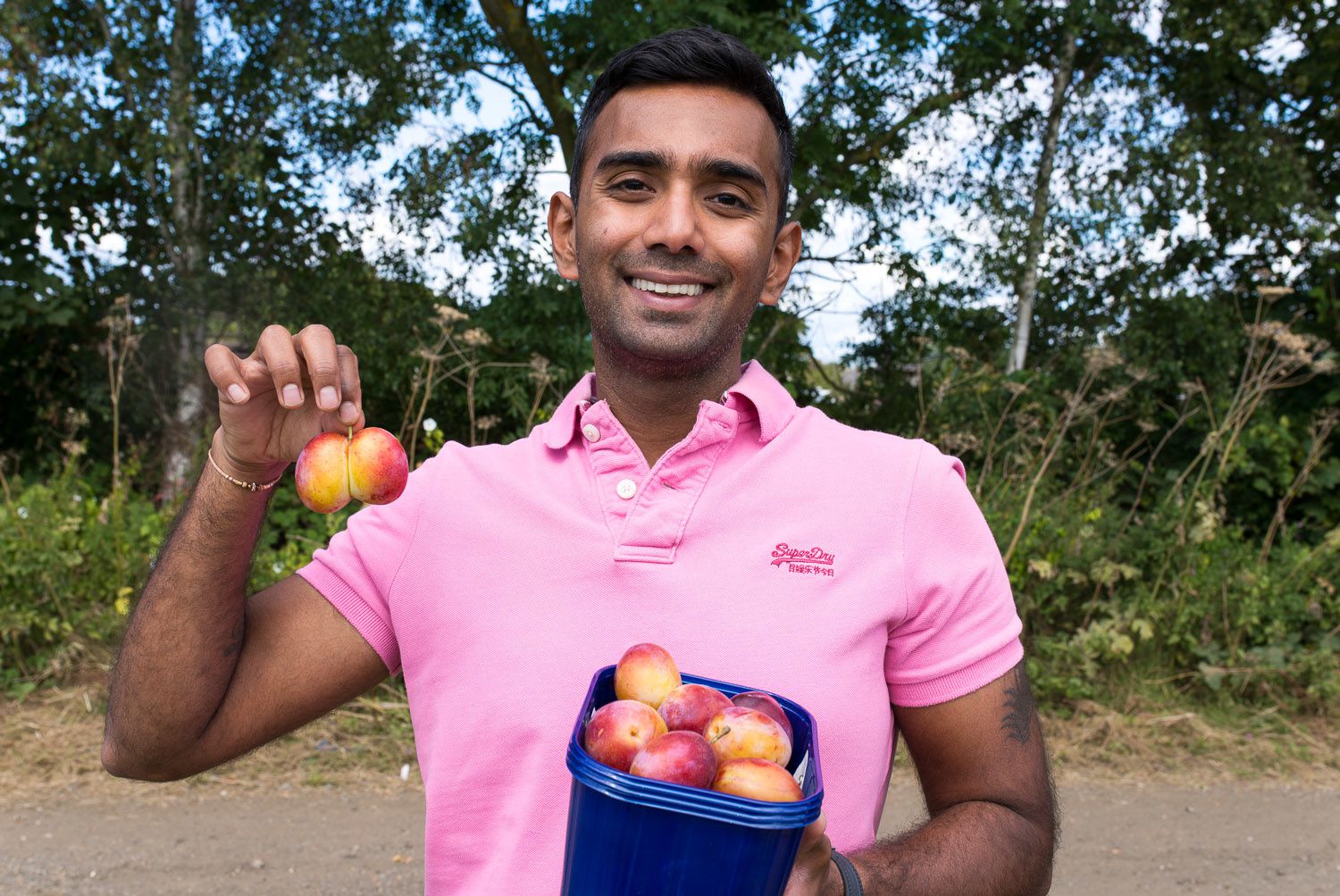 When we arrived back home that evening, with ten bags full of fruits and vegs, I immediately used the plums to make jam. For the preparation I followed a recipe from Thane Prince Perfect Preserves book which was published on Metro last month, though for the ingredients I followed my mum's recipe (less sugar and no added water). We used to have a plum tree back home in Rome and my mum would make kilos of jam every summer, I love her Plum jam!
I wanted to use my plum jam for a cake, but I couldn't decide on a right recipe. Finally this weekend I picked up the Smitten Kitchen Cookbook from my bookshelf and found Deb's Raspberry Chocolate Rugelach recipe.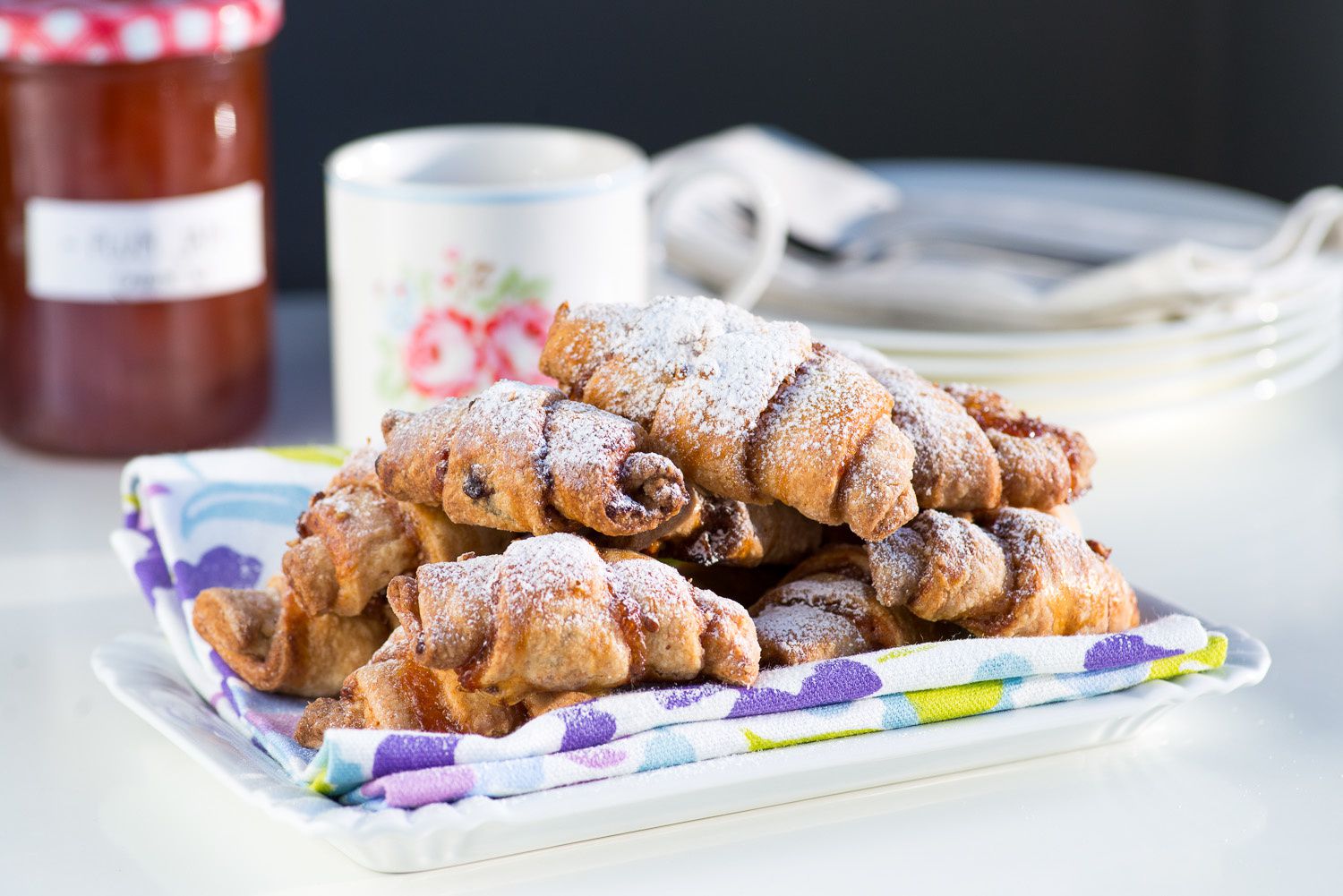 Rugelach are tiny crescent-shaped rolled pastries traditional in Jewish cooking. The name literally means "little twists" in Yiddish. They are made with a cream cheese dough and can be filled with preserves, chocolate, raisin, nuts, or just sugar.
It was perfect for my needs, so I decided to adapt it using my plum jam, replacing white flour with spelt and removing the chocolate chips from the filling.
Ingredients
For the plum jam
900g plums (washed, stoned and quartered)
550g sugar
For the dough (yields 48 rugelach)
230g butter, softened
230g cream cheese, at room temperature
1/2 tsp salt
50g caster sugar
200g spelt flour
50g plain flour (plus more for dusting)
For the filling
300g plum jam
100g granulated sugar
1 tsp cinnamon powder
3 tbsp pecans, roughly chopped
For the egg wash
Decoration
Preparation
Make the jam a day in advance. Place a pan with plums over moderate heat and cover with the lid. Bring to a simmer and, stirring from time to time, cook until softened for about ten minutes.
Turn the heat to very low, remove the lid from the pan and add the sugar. Stir until has completely dissolved. Increase the heat to a boil and cook for 5 to 10 minutes until the jam has reached setting point.
Leave to cool for five minutes, then pot into hot, sterilized jars and seal. Store in a cool, dark place.
Make the dough. In the bowl of an electric mixer, combine butter and cream cheese together until light and fluffy. Add flour, sugar and salt and beat on a lower speed until well combined. Wrap the dough into a large piece of cling film and refrigerate for at least two hours, or up to three days.
Preheat oven to 180°C. Prepare your three fillings: heat the jam in a small saucepan until it simmers, then set aside. Mix the sugar and cinnamon in a small bowl. Chop the pecans.
Divide the chilled dough into three equal parts (keep two part in the fridge while you work on the first one).
On a well-floured counter, roll the dough into a large, thin circle about 30cm in diameter. Spread three tablespoons of jam across the dough, then sprinkle three spoons of cinnamon sugar and one of chopped nuts.
Using a pastry cutting wheel, cut the dough into sixteen equal pieces. From the outside of the dough, into the tip of the triangle, roll each section of the dough.
Transfer the rugelach to an oven tray lined with baking paper and space them 2.5cm apart. Place the tray in the fridge for 10 minutes.
Before baking, brush the rugelach with the egg yolk wash. Place the tray in the oven and bake for 20-25 minutes, until the rugelach are golden brown and puffed.
Transfer them to a cooling rack while they are still hot, to avoid them sticking to the paper.
Sprinkle with icing sugar before serving.