Lunch at Assado, Waterloo
Posted on
Assado is the latest addition to Cyrus Todiwala's restaurant empire, a Goan-Portuguese fusion restaurant which opened last month in Waterloo's Hampton by Hilton hotel.
The décor suits the style of the adjoining hotel lobby: bright, colourful and cool with Portuguese-style tiles, classic wooden furniture, turquoise floor and bare tables without tablecloths. It's bold and minimalist at the same time.
I was a guest at the opening party in March where I tried little tasters of the food and drinks menu and also had the chance to hear Cyrus Todiwala talk about this new venture. It was great to meet Cyrus and his wife Pervin, and hear the chef talk with charisma and passion about Goan and Portuguese food influences and tell us stories about the origin of pastel de natas.
Bombay-born Cyrus Todiwala is the Chef Patron of Cafe Spice Namaste, Mr Todiwala's Kitchen and The Park Café in Victoria Park East, he was also awarded the Craft Guild of Chefs' Special Award and is a Fellow of the Academy of Culinary Arts and the Master Chefs of Great Britain.
I was kindly invited back to Assado for a blog review, so a few weeks after the opening I was there for a Sunday lunch with my husband.
After my second visit I got the impression that Assado relies mostly on pre-theatre diners (the Old Vic is just around the corner) and the weekday food on-the-go. I was there for lunch on Mother's Day and only a few tables were occupied.
The deli counter plays a key role in the restaurant's interior design and the food menu is clearly adapted to take-away needs, like for example the option to create your own sandwich choosing between different breads and fillings. Assado also offers a variety of pre-packed food for people to pick up and take away.
So what exactly can one expect from Assado? Cyrus says that the restaurant will offer the opportunity to explore both bygone jewels of Goan Portuguese cuisine and learn about the rich spice legacy provided by the Portuguese at every port they pulled up in.
Assado means "roast" in Portuguese, so I expected the menu to feature mostly Portuguese meat dishes. Pulled Pork Assado is indeed their lead dish, but it was also the one I was the least impressed by. The Goan Prawn curry on the other hand was the highlight of our meal.
The menu starts with a choice of three Goan breads and four fillings to match together. I asked the waiter to recommend the best bread for the pulled pork and I was recommended the Poi - a soft ciabatta bread which to be honest didn't work very well as the ratio of bread vs meat was not balanced. It was filled with Pulled Pork Assado: a very slow cooked shoulder or loin of pork marinated with crushed coriander, chilli, ginger and garlic served with coleslaw. The spices didn't come through and were overpowered by the coleslaw, which gave the dish a British flavour, rather than Indian or Portuguese.
These Curried Beetroot & Vegetable Puff (spiced roasted vegetables, shredded beet, potato & fresh coconut filled in puff pastry and baked) were recommended by our waitress and were absolutely delicious!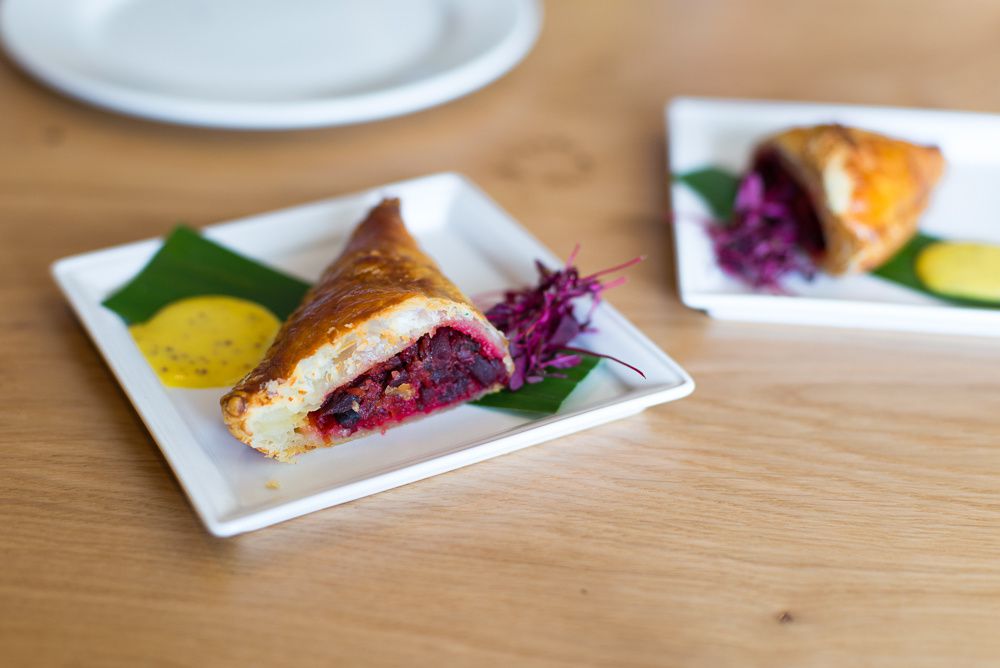 We also enjoyed the Prawns Mussels and Clams in Tomato and Olive Oil. The prawns, mussels and palourde clams were marinated in tangy tomato, olive oil and chilli, which was exquisite but I didn't like the choice of serving it with white bread, I would have preferred an Indian bread like roti or naan.
We ordered two curries for our main course: the Breast of Chicken Caldeen simmered in a light mild creamy coconut curry and served with steamed rice was tasty, but bland. I later told this to the Head Chef and he explained that this curry was developed in Goa for the initial milder Portuguese palate and hence the chicken is not marinated with spices that would overpower the coconut curry flavours.
The spicy Goan Prawn Curry served with Arroz Vermilho (organic red rice) was our favourite meal of the day, both my husband and I loved it very much.
One of Assado's most interesting features is the wood fired stone oven, in which Indian Naan bread is freshly baked every day. The naan is baked with different toppings (chilli cheese and garlic; Portuguese ham and St. George cheese; grilled vegetables on crushed tomato and cheese) and served it in slices like a pizza.
You can't go wrong with cheesy bread and these naans are indeed very tasty!
We finished our lunch with two desserts: the Bebinca cake (a moist Goan layered cake of coconut milk and ghee) served with coconut ice-cream which I really enjoyed. And the Pastel de Natas which took twenty minutes to be served as at Assado they are freshly baked on order. This makes them rather special and definitely worth the wait.
The pastry was light and flaky and the custard cream was thick with a hint of vanilla. The dish comes with two big-sized tarts, so it's perfect for sharing.
Overall I enjoyed our meal at Assado, my husband in particular loved the fish dishes which are more typical of Goan cuisine. I didn't fall in love with the concept and the menu, which was a bit "hit and miss". I would recommend Assado for the Goan curries, but overall I am not sure if the Indo-Portuguese fusion concept works and whom it is supposed to please: the British taste or the Indian community or both?
"Assado will be a new take on East meets West" said Cyrus Todiwala and I think that's an interesting but also generic concept; perhaps Assado still needs to find out exactly what it wants to be.
Disclaimer: I dined at Assado as a guest of the restaurant. All opinions are my own.