Pistachio Cookies
Posted on
In my last recipe post, I promised that I would bake more often and share the recipes on the blog. But the problem is, who is going to eat all my baked goods? I am happy to eat a slice of cake or a muffin every now and then, but when you end up eating the same thing for a week it becomes a bit boring. And it is not good for your diet! ;) My husband has a sweet tooth, but even him can't finish a whole cake. So what to do? The answer is to bake healthy things, that we can eat without feeling guilty.
I turned to my Facebook page followers for help, asking them to suggest recipes of tasty and low fat desserts. I was also looking for recipes with low content of butter and egg yolks. And possibly wheat-free. Mmmmm...not easy!
The suggestions ranged from Crunchy Honey & Sesame Bars to Almond & Cardamom Cake, from Olive Oil Biscuits to Yoghurt Cake. The winning idea was Pistachio Cookies by Dish Piglets, a recipe adapted from Trissalicious blog.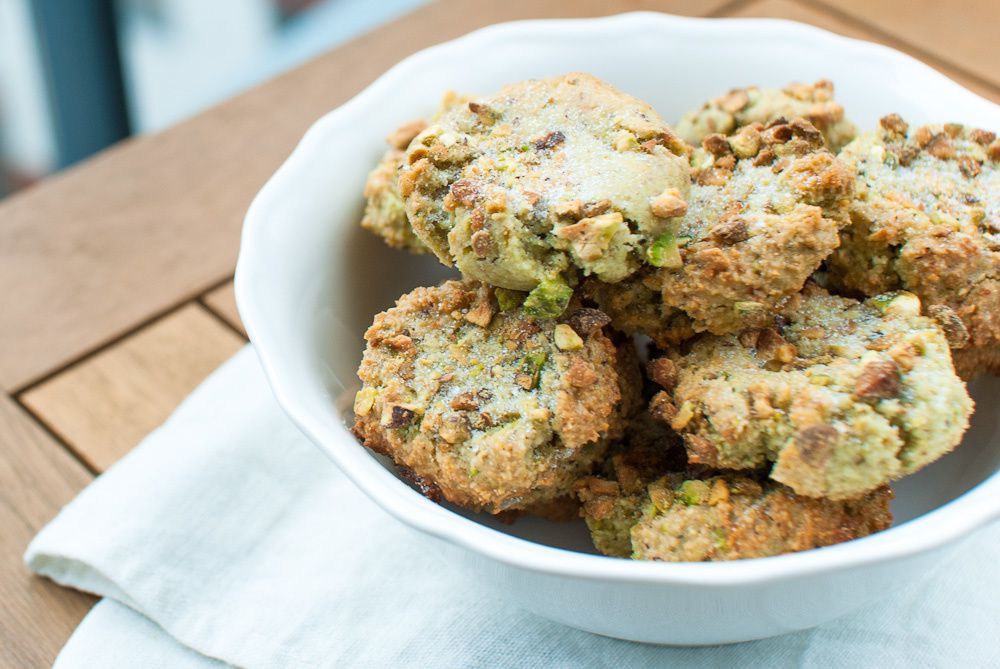 These cookies are made with almond flour and ground pistachios, a bit of sugar and egg white. That's it, simple and easy. They remind me of Sicilian marzipan sweets, though those are very sweet and crumble in your hands. My pistachio cookies turned out more crunchy on the outside, yet moist and soft on the inside.
Almond flour is made from ground blanched almonds and is also known as almond meal or frangipane (in France). It adds moistness and a rich nutty taste to biscuits and cakes.
Almond flour does have more calories than wheat flour, but it's also high in proteins, fibers and healthy unsaturated fats. It is a great ingredient to use in baking if you are following a low carbohydrate diet or if you need high protein snacks to keep your metabolism active.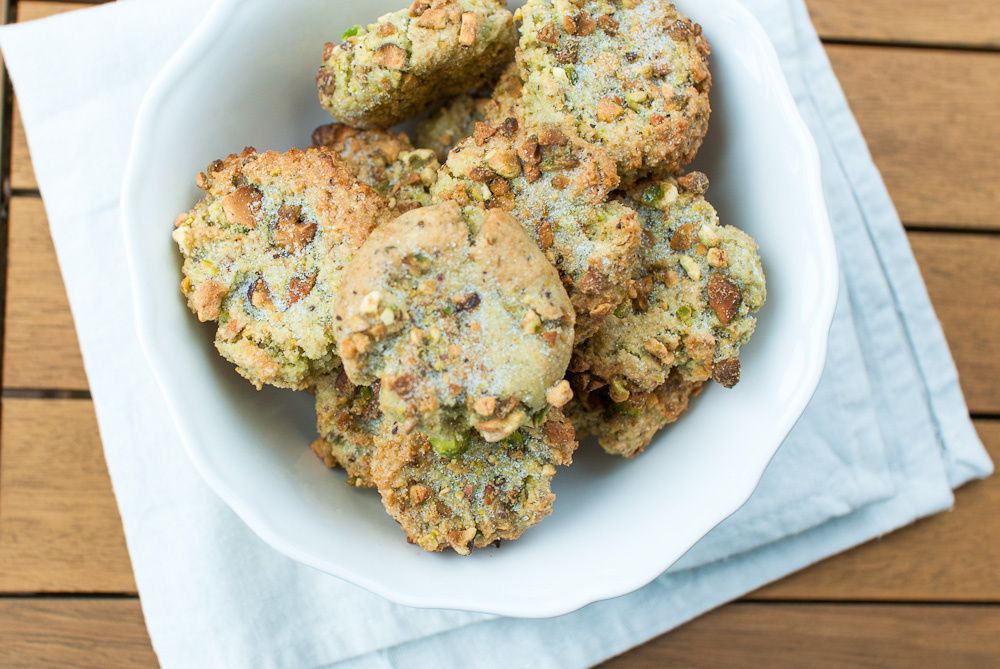 Ingredients
* 140g roasted pistachios * 120g almond flour * 80g caster sugar * egg whites from 2 eggs * green food colouring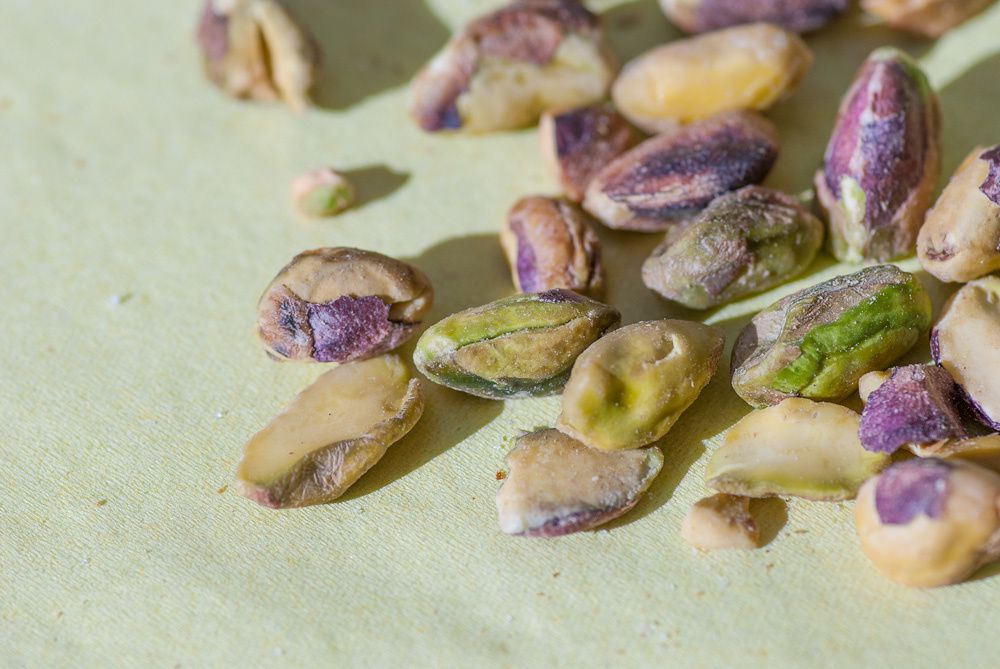 Preparation
In a food processor, chop half of the pistachios finely to a powder, while leaving the other half rough and with bigger pieces that will be used for the decoration of the cookies.
In a bowl, place the pistachio powder, almond flour, sugar and egg whites and mix well until you form a paste. Add a few drops of food colouring.
Scoop the cookie batter and form little balls, then roll them in the remaining ground pistachios. If you find the batter too sticky, add a little bit more almond flour.
Place on a baking sheet and bake for about 13/15 minutes at 170 °C.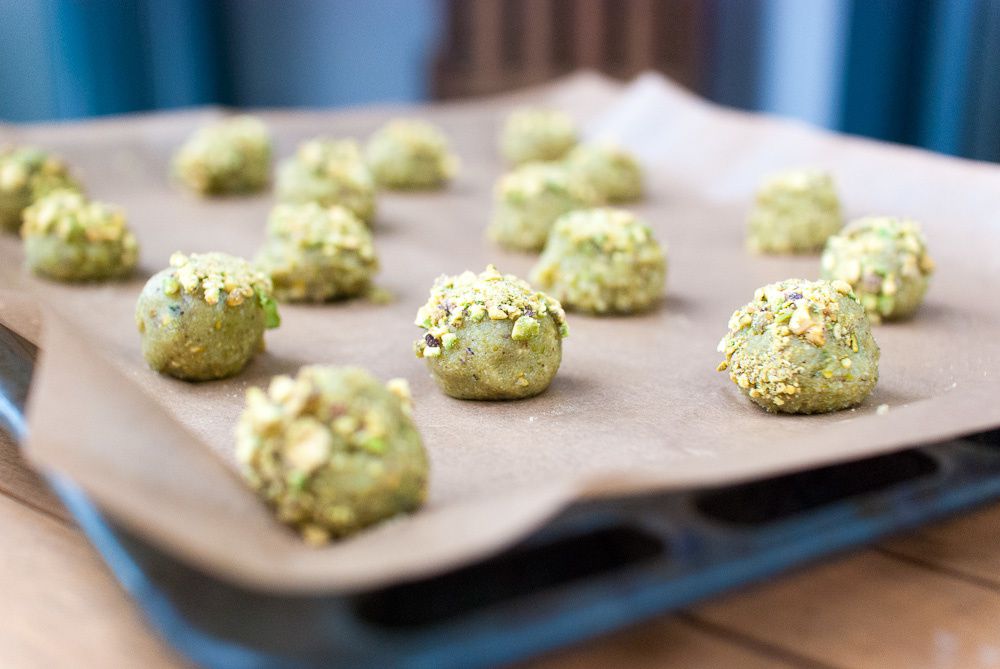 Half way through the cooking, I flattened the cookie balls with a spoon and dusted them with caster sugar.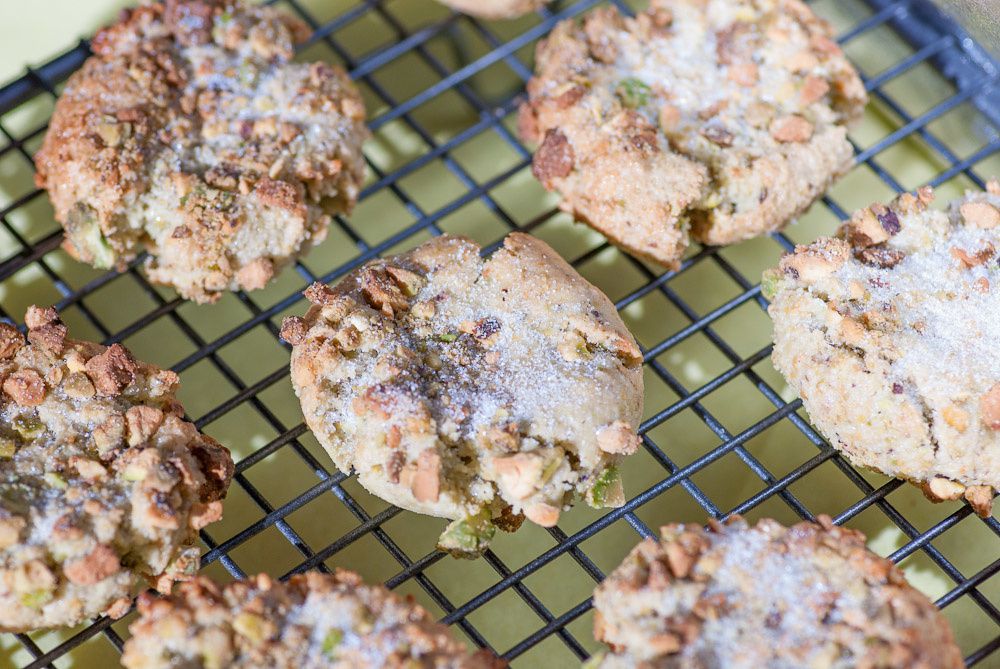 Once the cookies are baked and cooled, store them in an airtight container. Serve with coffee or tea.